Everybody knows that the failure of Hostess Foods resulted from the baker's union strike. The execs at Hostess must be very depressed this holiday season, having done everything they can to keep the company afloat. In fact, they were doing so well that they tripled their salaries over the last ten years! Pretty good considering they had to declare bankruptcy twice.

Those mean bakers should do the honorable thing and chip in to get the executives a gift. Considering that it's hard to buy a gift for the guy who has everything (I bet literally in this case) they'll probably have to do a little digging. Let's start here.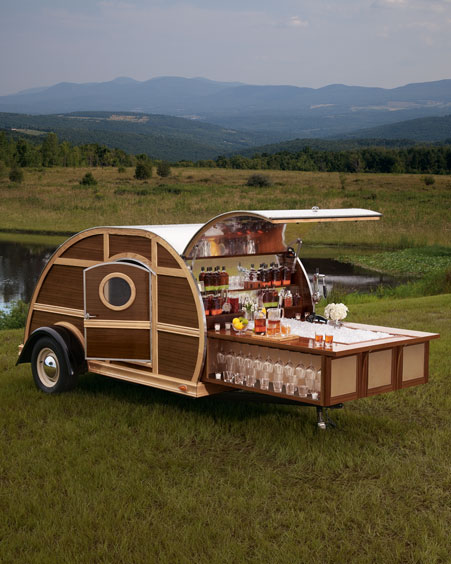 A chorus of cheers rings out the minute you pull up. Tailgating will never be the same now that your Bulleit Frontier Whiskey Woody-Tailgate Trailer is on the scene. Designed by interior designer Brad Ford, it's impressive on the outside, but what's on the inside truly astounds: sleek leather furnishings and details from Moore & Giles, rich wood finishings (handcrafted from reclaimed Bulleit Bourbon casks), elegant glassware, and a top-notch entertainment system, including a flat-screen TV, Blu-ray Disc™ player, and a state-of-the-art sound system, plus a one-year supply of Bulleit Bourbon and Bulleit Rye*. You park, open the hatch, and slide out the bar—cocktails anyone?

The details:
Two limited-edition trailers available. (First available for immediate delivery; second available within six months of placing order.)
Transportation and delivery of trailer is included within the continental United States.
Created by designer Brad Ford, who has more than 10 years of experience in interior design and was named one of America's Top Young Designers by House Beautiful and recognized as one of the Rising Stars of Interior Design by the International Furnishings and Design Association.
Moore & Giles, founded in 1933 in Lynchburg, Virginia, is dedicated to designing and developing the most luxurious natural leathers, working with tanneries worldwide and delivering unparalleled quality.
Entertainment system by Sony® and includes: TV, sound-bar speakers, receiver with touch screen, and smartphone controls.
Come on, it's only $150k! More if you get
a car to haul it around
.And that's per executive of course - you don't expect them to share do you? Come on bakers!